The Spicy Maple Tahini Dressing is what makes this Kale Her Salad so special. Sweet, earthy, tangy, and nutty. Tahini is naturally creamy; no mayo, cream, or cheese needed. It tastes best when combined with lemon. The julienne sliced kale mixed with herbs and carrots is a crunchy, aromatic, bitter, and sweet combination.
Things have been so busy around here. There is something about being busy that not only results in my not eating enough hearty meals but sometimes not eating enough food in general, which is bad because as we health foodies know - the more food the BETTER when it comes to health. More food equals MORE nutrients for the body. 
Too much cereal or candy or dessert or meat might not be considered a healthy thing, but lots and lots of vibrant green veggies and fresh fruit are crucial when you're on a plant-heavy diet. Needless to say, stress and not eating, make me CRAVE kale. Kale is so healthy and full of antioxidants and fiber. Its dark color says it all.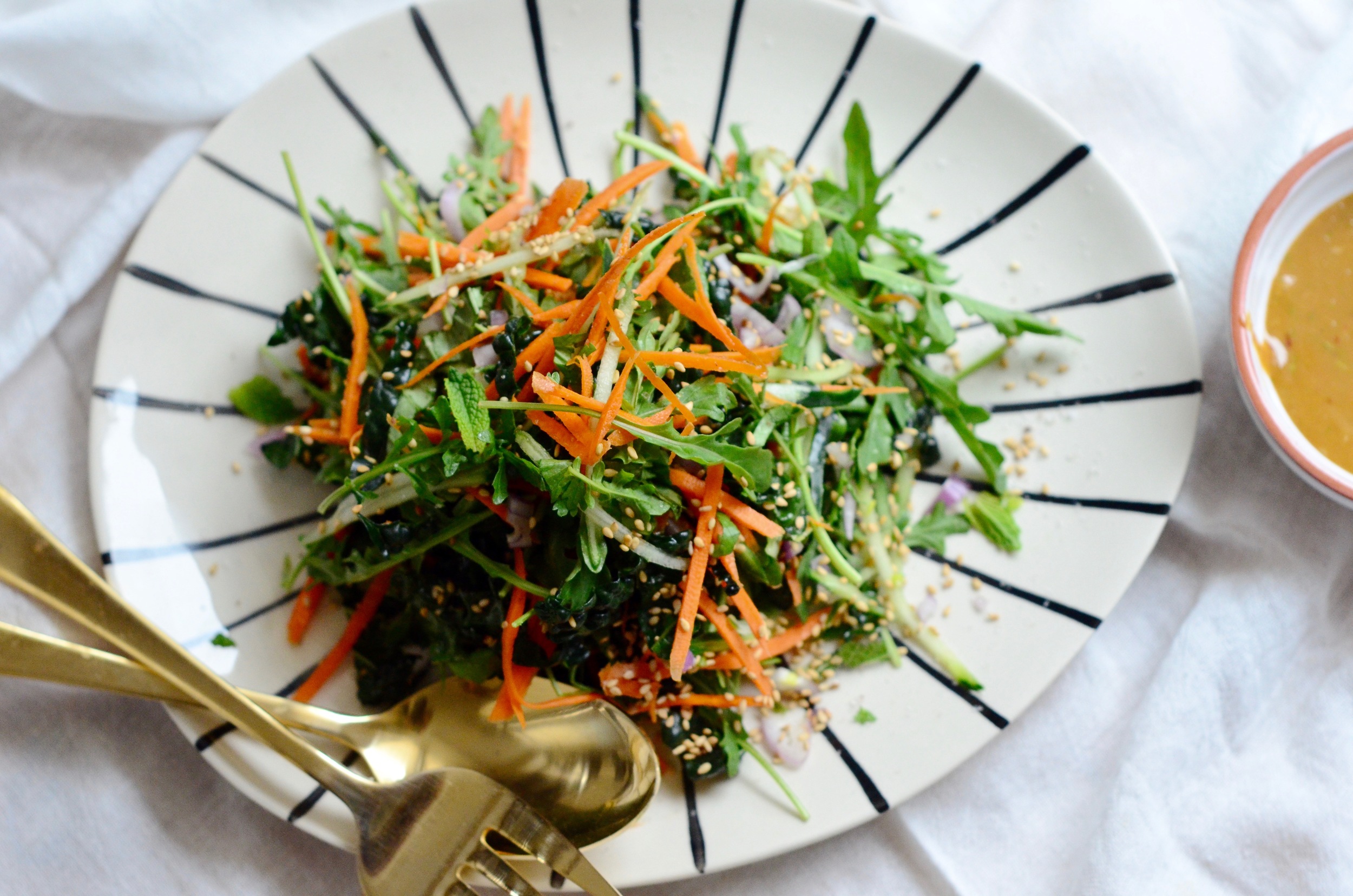 Herbs are also full of interesting health benefits and are one of my favorite additions to just about any meal - salads, tacos, fruit bowls, acai bowls, sandwiches, scrambles, Thai food, fajitas, you name it.  
Other Dishes Using Fresh Herbs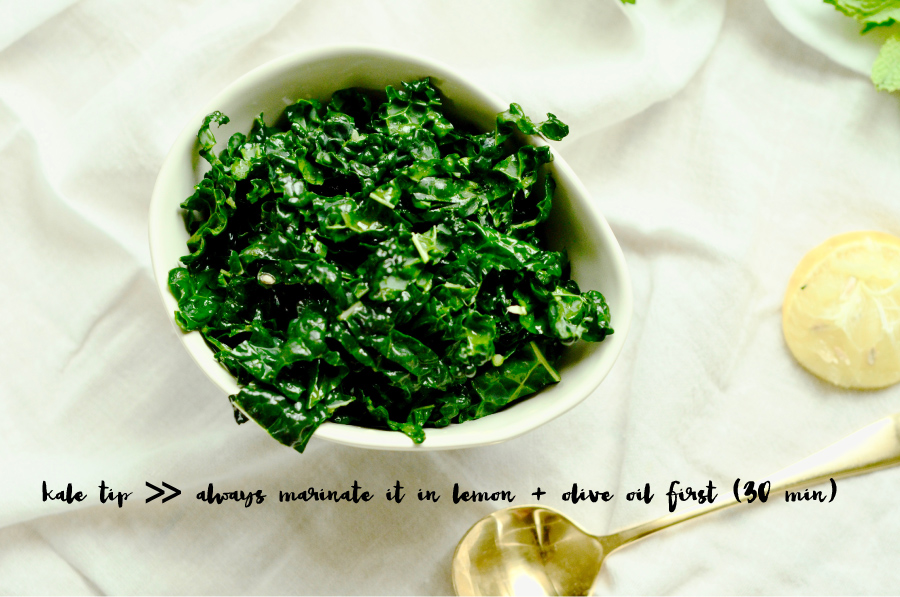 Kale is always best pre-marinated and chopped super fine. I love marinating a whole head of kale in the juice of half a lemon juice and a tablespoon of olive oil. Just massage the mixture into the kale leaves and let it sit - either on the countertop at room temp for an hour or in the fridge. This softens the kale takes away the bitter overly crunchy taste and texture.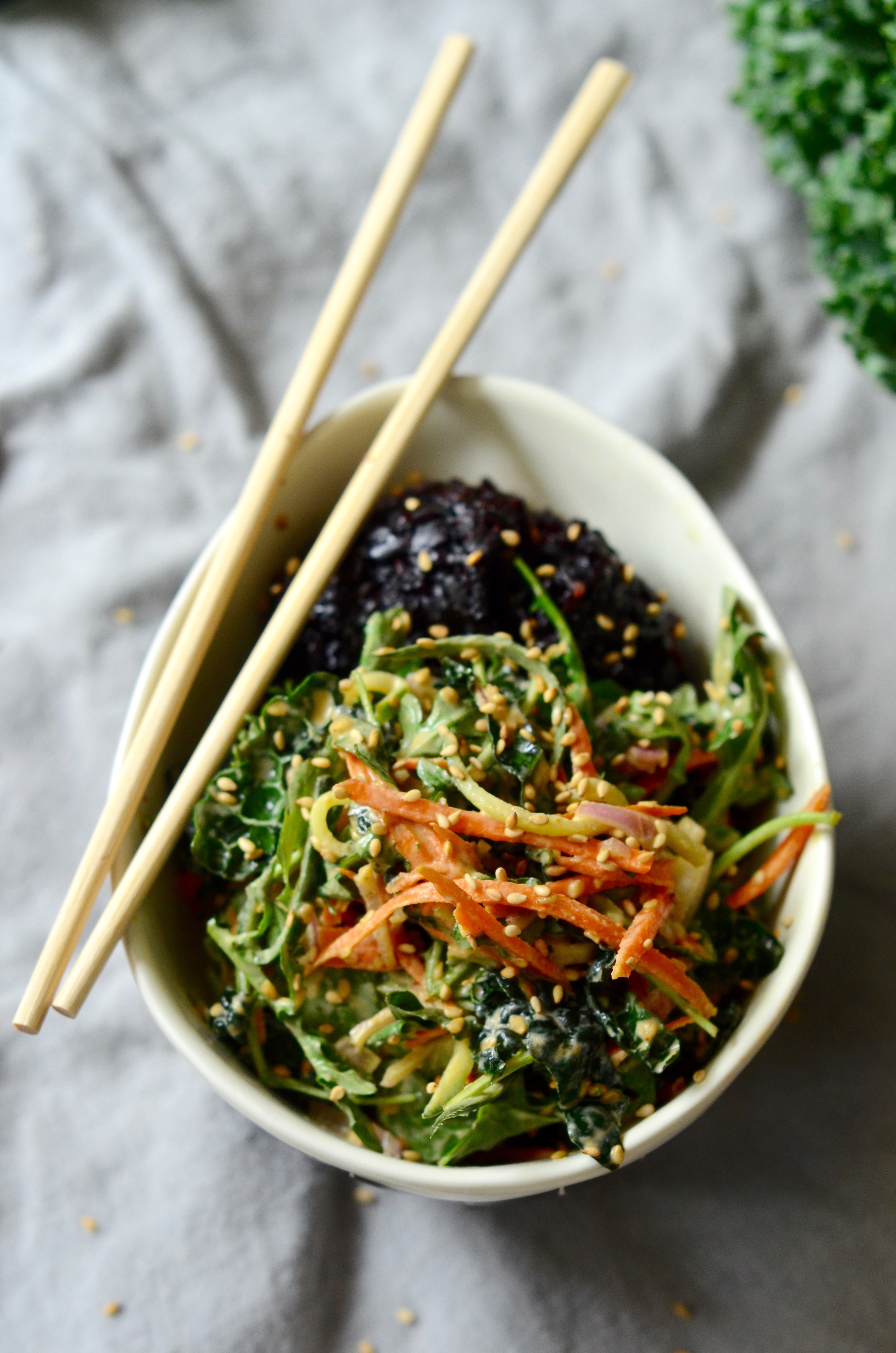 When I'm really hungry I add rice. This time I added black rice. A little extra dressing is all you need when you add the rice to this salad. If you're not feeling as hungry just go for a chopped salad instead.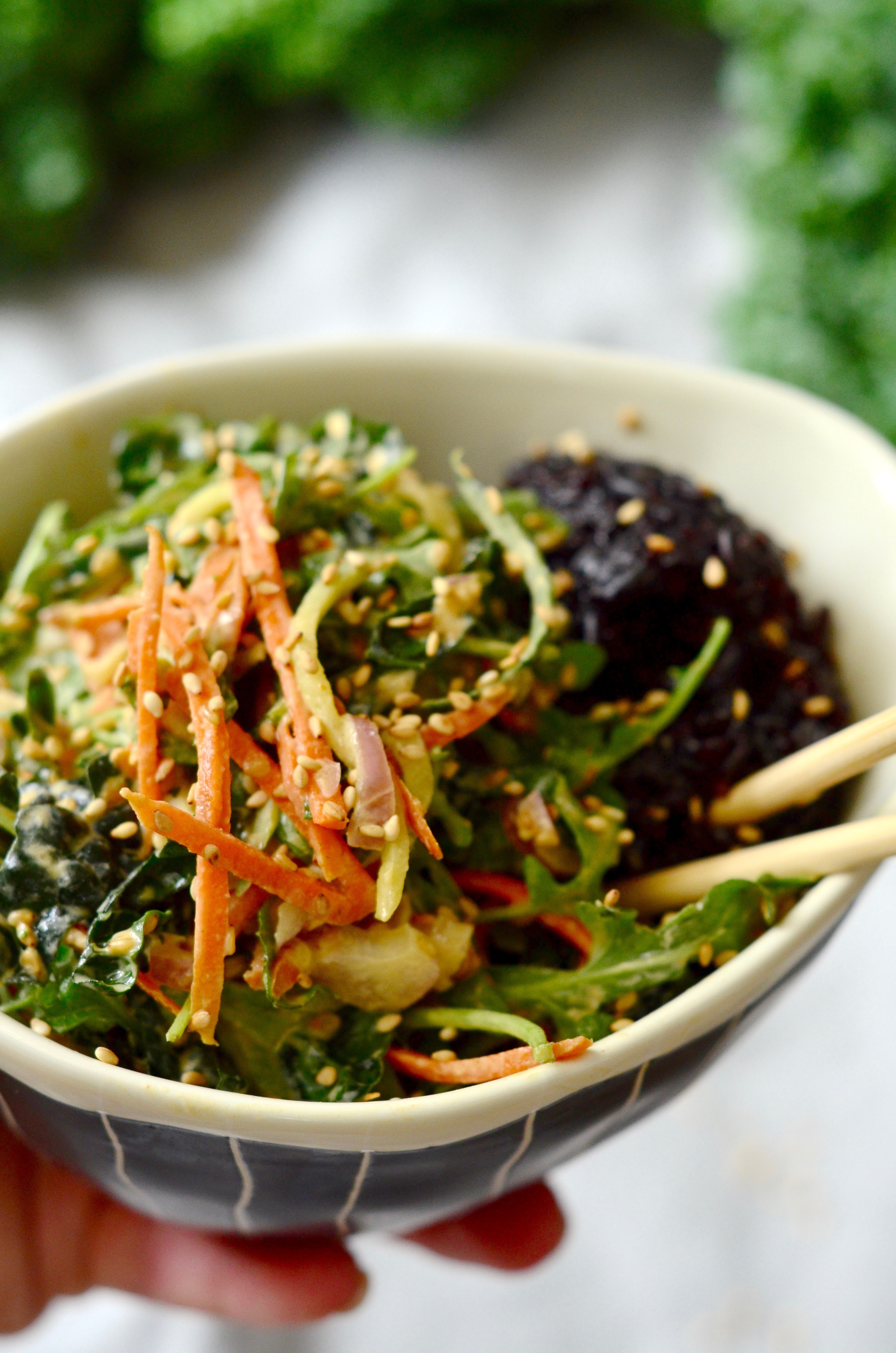 KALE HERB SALAD RECIPE
yields 2 large salads
INGREDIENTS
1 head dark kale, finely chopped and marinated (see notes above)
1 carrot, julienne peeled
⅓ large cucumber julienne peeled
3 cups arugula
2-3 tablespoon basil, finely chopped
2-3 tablespoon mint, finely chopped
2-3 tablespoon cilantro, finely chopped
3 tablespoon shallots, finely chopped
toasted sesame seeds
2 cups cooked black rice (optional)
DIRECTIONS
+ In a large salad bowl combine all chopped ingredients.
+ Dress the salad with the spicy maple tahini dressing (recipe below)
Spicy Maple Tahini Dressing
yields ⅓ cup dressing
INGREDIENTS
3 tablespoon roasted tahini
3 tablespoon tamari
2 tablespoon seasoned rice vinegar
1 teaspoon hot chili sesame oil
1 tablespoon olive oil
2 tablespoon maple syrup
handful of mint leaves
DIRECTIONS
+ Blend all of the ingredients listed above in a high-speed blender until creamy and smooth. 
+ Serve immediately.
If you enjoyed this recipe please share it on instagram. I'd love to hear your feedback and see all your wonderful photos. #puremamas on twitter or instagram. I'd love it if you liked PureMamas on Facebook as well. 
Happy weekending!
xoxo - Juli